* Klik ikon kamera untuk butiran lanjut / Click the camera icon for details
* Pertanyaan lanjut mengenai Pameran Maya Koleksi Khazanah Warisan Universiti: Ilmu Pengetahuan Institusi sempena Sambutan 50 Tahun UTM boleh dikemukakan kepada Seksyen Galeri, Bahagian Ilmu Pengetahuan Institusi, Perpustakaan UTM / For further information on the 'Pameran Maya Koleksi Khazanah Warisan Universiti: Ilmu Pengetahuan Institusi', in conjunction with UTM's 50-year celebration, please contact Gallery Section, Institutional Knowledge Division, UTM Library
History has documented the many transformations, challenges, and achievements of the university from its early establishment until the present. Therefore, the UTM GALLERIUM being one of the vital entities of the university, pledges its efforts to collect, preserve, and record the university's historical heritage. The variety of artifacts of the university that span across technology, science, engineering, and cultural arts should be preserved for generations to come.
Virtual Gallery
Check out the links below for more interesting content
Media Gallery
Check out the new UTM Video collection
What's Happening?
Check out the news and activities of the UTM Virtual Gallery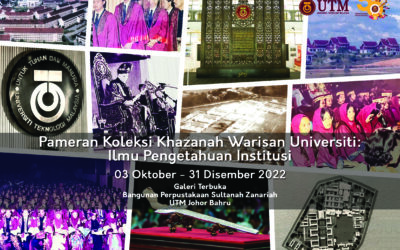 Sukacita dimaklumkan bahawa 'Pameran Koleksi Khazanah Warisan Universiti: Ilmu Pengetahuan Institusi' sedang berlangsung di Galeri Terbuka, Bangunan Perpustakaan Sultanah Zanariah, Perpustakaan UTM, UTM Johor Bahru mulai 3 Oktober 2022 sehingga 31 Disember 2022....
read more